Blog
chipple.net
December 7, 2013
Weekly revue: 2013 week #49 (November 30 to December 6)
Food: - Galette at comme des journaux, Ogikubo
- Banana muffin at Café Monami, Ogikubo, and lemon cake from Magali (at Café Monami)
- Black forest cake from Sunday Bake Shop, Hatsudai
- Mahimahi burger at L&L Hawaiian Dining, Shibuya
Music event: I went to see The Scooters at Shibuya WWW! Awesome show as always, every time filling me with happiness. I should write a full report shortly (if I can get to it), meanwhile here's the set list. All of the Scooters' members are such nice people, I'm a huge fan forever!
The Scooters set list: Motown medley / Heat Wave / kanashii uwasa / L-O-V-E / namida no Break Away / The Beatles medley / koi no Fortune Cookie / Shout / Tokyo Disco Night
Other bands playing were Juicy Fruits and Kotaro And The Bizarremen. Juicy Fruits are also back on stage since around 2009 after a long 25+ year hiatus. The current band features two original members (and two younger recruits of a neo-GS background), including singer/guitarist Iria who plays most guitar solos herself. Awesome!
Playlist: Stereolab, (((sssurrounddd))), Tarte Tatin, Scooters, the fascinations, CAPSULE, EeL, Juicy Fruits
This week's videos:
The Scooters "Heat Wave" live at Shibuya WWW
mishmash* Julie Watai "maware migi, nigerunda"
Posted on December 7, 2013 at 23:42 | Permalink | Trackback (0) | Comments (0) | Tweet |
---
November 30, 2013
Weekly revue: 2013 week #48 (November 23 to 29)
Outing: Spent a pleasant weekend in the countryside. Dropped by a Christmas market event at the Ibaraki Cultural Center, but a lot was already sold out. Senba lake nearby has ducks and swans, and also fake swans (some that people can ride, I guess, but the ones I saw seemed to be just robots).
Live event: I won tickets for a free event organized by fashion brand Fred Perry. There were shows by Nomiya Maki & BIBA (w/ Bravo Komatsu, Ujino and Noboru), Tokyo No.1 Soul Set and others, as well as DJ sets by Kawakami Tsuyoshi (Tokyo Ska Paradise Orchestra) and a surprise set by Chabe!
Nomiya Maki & BIBA's set was especially great. During the last song DJ Noboru served Fred Perry tennis balls towards the crowd, and those were signed by Maki! (I didn't get one though.) I love Ujino and he currenly has a solo exhibition at Yamamoto Gendai until December 14.
Set list: Tokyo wa yoru no 7ji (the night is still young) / Call Me (Blondie cover) / Sweet Soul Revue / Twiggy Twiggy
Another band playing called Kuroneko Chelsea was a nice surprise. They're a rock band that reminded me of Jon Spencer at times, and sometimes of Led Zeppelin, with a crazy awesome guitarist who just stole the whole show.
It was also fun to see Tokyo No.1 Soul Set live! They also did the tennis balls thing. I was happy to hear "One Day", the theme song of the "No Con Kid" 80's-gaming-themed TV series I've been watching.
Music release news: Sheena Ringo, Yoshida Rui, Akira Kosemura, Cutie Pai, akiko, Nagisa Yoko, Cornelius, Hoshino Michiru, Hanae, DJ Misoshiru to MC Gohan
Playlist: hitomitoi, Hoshino Michiru, Aira Mitsuki, Scooters, Denki Groove, Missing Linc, Chiroline ver.2, ...
This week's video:
sugar me "As You Grow"
Kuroneko Chelsea "onboro no kami no hasami"
Posted on November 30, 2013 at 12:47 | Permalink | Trackback (0) | Comments (0) | Tweet |
---
November 23, 2013
Weekly revue: 2013 week #47 (November 16 to 22)
Food: - Fried oysters and fish at Fukutsuru, Shinjuku
- Meals at Andhra Kitchen, Okachimachi
- Dorayaki from Usagiya, Ueno
- Bread from City Bakery, Shinagawa
- Black forest waffle cakes from RL Waffle, Tokyo
Outing: Dropped by mAAch ecute, a shopping mall built inside an old defunct train station named Manseibashi. Parts of the station remain intact, with a stairway built in 1912 (101 years ago!). There's a café and observatory on top that lets you view trains pass right by.
Music events: This week I had the chance to see two great shows! Here are some mini-reviews.
- On Saturday was the 4th edition of "Nanba Tatin", an event series hosted by singer Nanba Shiho and pop duo Tarte Tatin. This time their guest was idol group Negicco. I had yet to see a full show of Negicco, and also I hadn't yet seen Tarte Tatin live even though I love both of their CDs. Lately one of Tarte Tatin's members has been having some health problems it seems, and is being replaced by label-mate Nosa Reina (a wonderful choice in my opinion!). All of these acts were great! You can see many photos at Natalie. The next (and last) event of the series will be on December 15 at Shibuya O-Nest.
Negicco set list: sayonara Music / ai no Tower of Love / sōshin sōai / Negicco kara kimi e / Negative Girls / Idol bakari kikanai de / attōteki na Style / Party ni tsuite. / tokimeki no Headliner
Tarte Tatin set list: koi suru Calendar / irideppō ni deonna / Bou-chan / keep in time / ran raran / epoch making love / chō no mai / tokyo eyes / Cyber Survivor / shōganai My Love
- The other show I saw was "Leboutet Club", organized by singer-songwriter Maika Leboutet also singer of band EA. Of course I wanted to see her show, but I was also very excited about the other bands. First on was shippai shinai ikikata, a band of 6 that sounded quite Shibuya-kei to me, though every now and then it had very noisy moments with the girl singer screaming. Great stuff!
Next was daredemo Esper, an all-star band featuring guitarist Matsue Jun (who I once saw with the Spoozys), keyboardist Hajimetal (ex-Midori) and drummer Nishiura Kensuke (ex-sōtaiseiriron). All 3 of them also sing, though several songs were instrumental. They were accompanied by a bassist. All of these musicians have amazing skills, and the sound was super tight. Their set ended with a funny voice changer pop karaoke song.
The next band was Skirt, which I was also very curious about after several friends had recommended them. Turns out that they're a really cool pop trio that reminded me of True Love Always and my U.S. indie rock fan days. Lead member Sawabe Wataru has a wonderful strong voice and is a great guitarist too. The songs were very good.
Last was Maika Leboutet's set, for which she was accompanied by Matsue Jun (his 2nd stage that night!) and two more musicians. Maika has a great stage presence and a pop star aura. She sings great and also plays keyboards and with a Kaossilator throughout the show.
This event featured all really awesome bands. There should be a 2nd "Leboutet Club" event held around spring next year and I'm already looking forward to see who it will feature.
Music release news: kaku P-Model, tofubeats
Playlist: Nosa Reina, Dorian, Towa Tei, CAPSULE, Tarte Tatin, Takako Minekawa & Dustin Wong, EA
This week's videos:
yanokami "chikyū ni notte" w/ U-zhaan, Sunahara Yoshinori, Illrime, Morishita Maki
Posted on November 23, 2013 at 01:45 | Permalink | Trackback (0) | Comments (0) | Tweet |
---
November 16, 2013
Weekly revue: 2013 week #46 (November 9 to 15)
Food: - Yakitori at Miyazaki Shōten, Nakano-Fujimichō
- Beef soup curry & turnip curry at Tapir, Ōkubo
Photos: I put up lots of photos from our Hawaii trip on Flickr! You can see them here. I'll get around to writing a bit about the trip. :)
Exhibitions: - Toshikazu Nozaka x Usugrow exhibition at Gallery Common, Harajuku. A lot of great artwork, with Usugrow's unique calligraphy and Nozaka's wave-inspired paintings.
- Also checked out modern tea style exhibition "Enishi" at Seibu Shibuya (8th floor), with works by Kazumichi Maruoka, Riyoo Kim, and ESSU, among many others. On until Sunday November 17. It's possible to participate to a tea ceremony too!
Movie: Went to see another movie by Xavier Dolan, "J'ai tué ma mère" ("I Killed My Mother", 2009), which is showing at Shibuya Uplink until November 29. This was a good film also!
Music release news: Maki Rinka with her Sweet Hollywaiians, NeoBallad, Kimura Kaela, Tokyo Shock Boys, Moonriders, No Lie-Sense,
Playlist: Chiroline ver.2, Tarte Tatin, Dorian, Kero Kero Bonito
This week's video: No Lie-Sense "Eat Chocolate Eat"
Posted on November 16, 2013 at 00:20 | Permalink | Trackback (0) | Comments (0) | Tweet |
---
November 9, 2013
Weekly revue: 2013 week #45 (November 2 to 8)
Food: Sunday Bake Shop
Music events: - Went to see a concert of Akiyoshi Toshiko, a famous jazz pianist based in New York, turning 84 this year. While not familiar with her music, I had the chance to win a pair of tickets. She was accompanied by a local orchestra of musicians specialized in her pieces. I liked that she often switched between playing the piano and standing to conduct the orchestra. Very nice show!
- Also I went to see a free show of De De Mouse + Drumrolls at the school festival of Hosei University. It had been a while since I had seen De De Mouse, and also I was intrigued by this formation with two drummers. I was curious of who they would be, turned out it was Jimanica and Lite's Yamamoto Akinori. Both were excellent! The only thing is that I was at the front row, so I got to hear mostly raw drums and not much of De De Mouse's sounds. I enjoyed the show though of course! :)
Movie: "Laurence Anyways" at Shibuya Uplink. This is a movie by Montreal director Xavier Dolan. I was especially surprised to see a scene filmed in the Montreal restaurant Triskell, to which I used to go every week when I lived there. It made me happy to know that it's still there. :) Good film!
New music: I hadn't waited for an album so impatiently in a long time, Dorian's 3rd album "midori" was finally released this week! I've been listening to it almost non-stop since. :) It's quite a change of direction, as he moved away from his distinct 80's-influenced disco style to exotic sampling lounge with many quieter and even beatless tracks. Some tracks remind me of Sunahara Yoshinori, Towa Tei and Cornelius. Definitely a great album, and I'm looking forward to see Dorian live again to see how this will be done. It's available worldwide on iTunes, so check it out!
Music release news: frenesi, Negicco, Chiroline ver.2, Dorian, Perfume, Taikuh Jikang
Playlist: Dorian, CAPSULE, EA, Dorian, Dorian, Dorian, Dorian, Dorian, Dorian, Dorian :)
This week's videos:
Negicco "tokimeki no Headliner"
Perfume "Sweet Refrain" (short ver.)
Yoko Ono Plastic Ono Band "Bad Dancer" (feat. Cibo Matto, Ad Rock, Mike D, ...)
De De Mouse live at Hosei University Nov. 4
Posted on November 9, 2013 at 00:16 | Permalink | Trackback (0) | Comments (0) | Tweet |
---
November 2, 2013
Weekly revue: 2013 week #44 (October 26 to November 1)
Food: - Lunch at Consequence, Shibuya
- Gingerbread latté at Starbucks! Like every year Starbucks' holiday season started on November 1st, and I went on the first morning to get my favorite. :)
Party: A friend started borrowing a café for weekends, and we went to the pre-opening party. There was lots of good food to try! There were many guests, including Sunday Bake Shop friends, and also I got to meet band EA who I had been curious about! I bought their CDs (1st mini-album "Météo" and a brand new 3-song CD-R) and got their autographs. :)
Singer Maika organizes event "Leboutet Club" with Skirt and more, on November 21 at Shibuya O-Nest. (Details at Tokyo Gig Guide.)
Magali is open every weekend Friday to Sunday from 19:00, at Café Monami (Nishi-Ogikubo). The rest of the time it's the regular Café Monami, I recommend the great muffins, and I also want to try the curry next time.
Music release news: Tarte Tatin, Kyary Pamyu Pamyu
Playlist: Nakatsuka Takeshi, Hoshino Michiru, Konishi Yasuharu/Pizzicato Five, Kahimi Karie, Negicco, YMCK, Fantastic Explosion, Naka Shigeo, Kyary Pamyu Pamyu, New Castle, Vanilla Beans
This week's videos:
Maika Leboutet (EA) "YAYUYO"
CAPSULE "CONTROL" (full version)
Posted on November 2, 2013 at 14:12 | Permalink | Trackback (0) | Comments (0) | Tweet |
---
October 27, 2013
Weekly revue: 2013 week #43 (October 19 to 25)
I spent all of last week in Hawaii! It was our first time there, and we had a great time. We were in Kailua for 4 nights and then in Waikiki for 3 nights. That included the wedding of a couple of friends (the main reason we went there).
I should be posting more about the trip in the coming days or weeks. Meanwhile here's just a quick update of the regular themes.
Music release news: Horie Hirohisa

Playlist: YMCK, Aira Mitsuki, Perfume, CAPSULE, hitomitoi, nakayoshi group, (((sssurrounddd)))
This week's videos:
Kyary Pamyu Pamyu "Mottai-Nightland"
CAPSULE "CONTROL" (short ver.)
blue marble "mimei☆sensō"
Posted on October 27, 2013 at 21:35 | Permalink | Trackback (0) | Comments (0) | Tweet |
---
October 19, 2013
Weekly revue: 2013 week #42 (October 12 to 18)
Food: - Paris s'éveille, Jiyūgaoka
- Train-themed curry restaurant Niagara, Yūtenji. This unique restaurant is full of train memorabilia which the "stationmaster" has been collecting for some 50 years. An electric train delivers curry plates to the tables. All passengers are given an original ticket.
- Tandoori rabbit at Tapir, Ōkubo
Music event: On Saturday October 12, I went to YMCK's "Family Days" release party at Daikanyama Loop! This year YMCK celebrate their 10th anniversary! This made me remember that I've been a huge fan since their quite early days, I first saw them live in 2004 and was blown away by their performance. Still today their shows always touch me and make me very happy.
This was their first ever "one-man" show and it was sold out. They played all songs from their new album, and so many of their older best tracks including ones from first album "Family Music" (2004) that I hadn't heard live in so long, such as "John Coltrane ..." and "Tetrominon". I was also very happy to hear one of my favorites, "Rain", which they movingly chained into "Raindrops falling on my head"..! The show also featured twin rappers P.O.P ORCHeSTRA who appear on one song of "Family Days". The show ended with "Magical 8bit Tour" (another great early track) and YMCK's theme, "Yellow, Magenta, Cyan and Black".
Exhibition: Went to Jiyūgaoka for a solo exhibition by graffiti artist ROUSOKU (aka Z¥S). The ROUSOKU moniker is used for calligraphy-style candle-shaped designs which are placed on various materials and situations. There was a workshop where you could use 5 original stamps to decorate a tote bag, which I did.
New music: I took advantage of my Canadian iTunes account to get the new CAPSULE album a week earlier than the Japanese release (it's available early worldwide, though Japan will get a bonus track). The concept was already intriguing enough, with the "CAPS LOCK" title and computer keyboard-inspired tracklist, and also the logo that went all CAPS. But the album itself is also a huge step in a very different direction. Less techno, more experimental, less vocals too. Opinions will vary, but to me this sounds very refreshing and I'm enjoying it!
Music release news: Vanilla Beans, Luvraw & Costa De Palma
Playlist: YMCK, Dorian, Perfume, CAPSULE, Towa Tei, ...
This week's video: Vanilla Beans "Please Me Darling"
World Order "Welcome to TOKYO"
Posted on October 19, 2013 at 02:01 | Permalink | Trackback (0) | Comments (0) | Tweet |
---
October 12, 2013
Weekly revue: 2013 week #41 (October 5 to 11)
Food: - Thai curry lunch at Puan, Nishi-Ogikubo
- Curry at Sharidesu, Nakano
- Mocha soft ice cream at Mikado Coffee, Tokyū Honten, Shibuya
Also did a bunch of random fun shopping in Nishi-Ogikubo! Passed by a small shop, Loupe, etc.
Music event: I went to Izumi Ookawara (Qypthone)'s "Salon de Musique vol.1" event at Saravah. It will apparently be a series, and this first show had sets by P.O.P ORCHeSTRA (cool twin rappers backed by a full band, this time accompanied by brass too! (clip)), Saigenji (a unique singer-guitarist, I love his solo guitar & scat style (live clip)), to close with Izumi's own great show (backed by Qypthone's Ishigaki Kentarō on guitar, a woodbass and drums). DJ was Masaru Takahashi.
Music release news: ya-to-i

Playlist: The Aprils, Les 5-4-3-2-1, Hair, capsule, etc.
This week's video: ya-to-i "tonaeru yo"
Posted on October 12, 2013 at 02:52 | Permalink | Trackback (0) | Comments (0) | Tweet |
---
October 5, 2013
Weekly revue: 2013 week #40 (September 28 to October 4)
Food: - Brasserie Gus, Kagurazaka
- Cheeses from Alpage, Kagurazaka
- Halloween cat ice cream at Baskin Robbins
- And lots of great food at home parties!
Music event: I went to Aira Mitsuki's last show, on September 29, at least the last before her announced hiatus. Aira was accompanied by her 4 dancers, and on stage were also her small Korg keyboard, her red SHS-10 strap-on keyboard, and a drum set.
The show was really great, filled with some 28 of her best songs (including most of her latest album "I'll Be Back"), some in shorter versions so that more could fit into the show. Towards the end of the show there was an awkward moment when she was telling her feelings to the crowd, and her mom (!) interrupted from the back, making everything really weird. The reason why she quit remains a mystery. Anyway I feel quite sad about her retiring, as I've followed her since quite early in her career and always enjoyed her music and shows.
Set list: I can fly / Mysteric / High Bash / make new world / twinkle twinkle / time machine / Knee High Girl / Colorful Tokyo Sounds No.9 / China Discotica / BARBiE BARBiE / Darling Wondering Staring / you know / I still love you / Butterfly / BAD trip (feat. Terukado) / Plastic Doll / HiGH SD Sneaker / Wonder touch / tell me / 321 / Robot Honey / Fantasy Candy / Train Train / Heat My Love / ??? / Summeeeeeeeer set
Encore #1: Yellow Super Car
Encore #2: Robot Honey (remix)
- Also dropped by event "Marché" at Organ b. with P5ML friend Don and his girlfriend. It was DJ Takahashi Masaru's event's 3rd anniversary, and also the last time with Sumire before she moves to Kyoto. Masaru played a back-to-back set with Hase Yasuhiro (Yume to Cosme).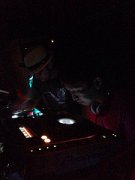 Playlist: "dakishimetai!", Negicco, Pizzicato Five, Kero Kero Bonito, Mark Robinson, Perfume, Takako Minekawa & Dustin Wong
This week's video: YMCK "sasetsu shite usetsu shite"
Posted on October 5, 2013 at 00:15 | Permalink | Trackback (0) | Comments (0) | Tweet |
---
Continue reading in the September 2013 Archives.
Next entry: "Weekly revue: 2013 week #39 (September 21 to 27)" (September 29, 2013 at 01:06)
Archives
2013: December November October September August July June May April March February January
2012: December November October September August July June May April March February
2011: November October May April March
2010: August May April March February January
2009: December November October September August July June May April March February January
2008: December November October September August July June May April March February January
2007: December November October September August July June May April March February January
2006: December November October September August July June May April March February January
2005: December November October September August July June May April March February January
2004: December November October September August July June May April March February January
2003: December November October September August July
Syndicate this site: RSS 1.0/RDF RSS 1.0/RDF Comments
Blog powered by Movable Type Open Source 4.1 (Movable Type 日本語版について), moblog powered by Flickr Contact et hop dans le pot de miel