Blog
chipple.net
March 8, 2014
Weekly revue 2014 week #10 (March 1 to 7)
The weather is still very cold, we even had a bit of snow yesterday(!), but some blossoms (either cherry or plum) have started showing up hopefully to announce that spring is on the way.
Food: - Lunch at Acala.naatha, Nakano
- Wendy's in Roppongi (the one in Harajuku closed down a little while ago)
Performance: On Saturday I went to see a performance by Yokomachi Keiko (actress and choreographer, ex-Romantica) and Yamakawa Fuyuki (musician and performance artist). I hadn't realized when I met Keiko in January, but she is affected by a stroke. The performance titled "Asymmetria" was all about her brain that has lost track of her left arm. It was very personal and rather dramatic.
The set was paced with sounds and lights triggered by Fuyuki. Also on stage was respiratory aid machine Puritan Bennett 7200 (aka "Pyu-chan"), something you'd usually expect to see in a hospital. It was a customized version Fuyuki has robotized to make it roll around radio-controlled, and he made it converse with the actress.
The performance did leave me a bit sad, and also concerned that this could probably happen to anyone. Our link with our own arms and legs might be more fragile than we think? Also it made me feel Keiko's courage and determination, recently returning on stage after some years of physical therapy. This was a very unique show, full of little surprises, and I'm glad I had the chance to see it.
Music event: I went to see hitomitoi's "Snowbank Social Club" show at Billboard! This has been her formula for the last 3 albums (starting with "City Dive" and "Surfbank Social Club"), offering a live version of each entire album. Again this time she was backed by members of Nona Reeves, and there were guest appearances by cool rapper Punpee and talkbox player BTB (of Luvraw & BTB). The show finished with "konayuki no Spur", a great song written by the late Bice.
Set list: Catch Me in the Snow / Winter Rouge Mellow / Silver Wind / Snow Storm Loneliness / Frozen Horizon / Chocolate Neverland / Diamond Dust / (Snowbank Social Club) / Night Flight Telephone Call feat. Punpee / Park Suite feat. BTB / Awakening Town
Encore: Feel Like Bayside Love feat. BTB / konayuki no Spur
Music release news: Cibo Matto, Konishi Yasuharu, "More! Electronic Disney Music", Hanazawa Kana, kotringo, Concert, "dai! tensai terebi-kun"
Playlist: Negicco, Pizzicato Five, Latin Quarter, Takako Minekawa & Dustin Wong, Kavinsky, Kinbara Chieko
This week's video: Un Amin "hakone ni shiyō ka"
Posted on March 8, 2014 at 22:46 | Permalink | Trackback (0) | Comments (0) | Tweet |
---
India 2014 #1: Kerala
From February 15 to 24, we went on a trip to India, our 3rd to date! Before we visited southeast (Chennai, Pondycherry, Auroville), then the north (Delhi, Agra, Jaipur), and this time we went to the southwest, in the state of Kerala. We stayed mainly in Fort Cochin (part of the city of Kochi, previously named Cochin), with a 2-day trip to Alappuzha (aka Alleppey).
Most of the people we met in Kerala were quite nice, friendly and helpful (except that some rickshaw drivers can be a little bit pushy). Many people and kids greet you "hello!" on the street, sometimes wanting to take a photo together. Fort Cochin was a very nice place to walk around. Many cats (and goats)! We also saw some nice beaches in Alleppey and Mararikulam (Marari Beach). Kerala seems to be mainly a relaxed place.
Twice we had no hotel plans, and ended up at guest houses that weren't bad at all. Prince Homely Stay in Alleppey (some guy from there came to talk to us when we arrived at the bus station) was cheap and fine with friendly hosts. While a bit more pricey in Fort Cochin we stayed a night at Silverweed Homestay (this one we had booked in advance) where the family welcomed us warmly, and we could enjoy grandma's idli and sambar breakfast.
A day on a houseboat
In Alleppey, the houseboats are a common attraction. These are truly like a small house on a boat, complete with a bedroom, bathroom and electricity. The system is that they all depart around 11am, to come back around 9am the next day. The boat stops during meals, and docks somewhere for the night. Alleppey's "Boat Jetty" seems to be the main place where to find a ride, near the town's bus station, but during our stay in Fort Cochin we were given a contact for someone in a slightly remote place (River Lap Cruise in Pallathuruthy) and we decided to give it a try. The boat wasn't one of the best (looking at others), but it wasn't bad at all, even with air conditioning in the bedroom (which we didn't really need though). The 3-man crew was friendly although they didn't speak so much English. It just felt good and relaxing to spend a whole day sitting around and looking at the scenery.
Mattancherry art scene
We took a walk from Fort Cochin to Mattancherry, kind of randomly. Part of Mattancherry is full of tourists, but we ended up finding several galleries and art-related places on Bazaar Road where young creative people hang out. Backyard Civilization is a very nice gallery. Also we enjoyed drinks at Springr Café, where local musicians have their own recording studio. There seems to be several places with artists-in-residence.
The food
We had great meals at The Brunton Boatyard hotel, part of the CGH Earth Group (we heard that all of their restaurants are quite good), and also at Old Harbour Hotel which has a beautiful inner garden with a pool and cats roaming around. At the latter, we had the chance to see a tabla & flute show while we ate.
On the cheaper side, we had some good biriyani at Kayees (Ernakulum location) with our friend Momo-chan on our first night. And yet cheaper, we enjoyed some vada and snacks at a shop on the corner of some main streets in Fort Kochi (Pullupalam Rd & TM Muhammad Rd), and we also ate at some very local restaurants that seemed to be popular with local middle-aged men.
The food on our boat, cooked by our dedicated chef, was also very good!
More photos at Flickr.
---
Tabla & flute concert at Old Harbour Hotel, Fort Cochin
Houseboat in Alleppey
Duck delivery? in Alleppey
Bus ride on the way from Mararikulam towards Cochin
Posted on March 8, 2014 at 21:54 | Permalink | Trackback (0) | Comments (0) | Tweet |
---
March 1, 2014
Weekly revue 2014 weeks #8-9 (February 15 to 28)
Skipped a week, there's a reason...! :)
India: We went on a trip to India for about 10 days! This was our 3rd time to visit this country, and this time we were mainly in the state of Kerala, staying in Kochi (aka Cochin) and also spending a night on a houseboat near Alappuzha (aka Alleppey). Our journey ended with a few nights in Jaipur (where we went last time) and then dropping by Delhi for a day. This was a great trip, with lots of good food and interesting encounters. We also got to see Pizzicatomania friend Momo-chan in Kochi, and ran into Salam Unagami at the airport.
Photos are up at Flickr, videos on YouTube, and even some GPS maps here (if anyone's interested). :) I'll hopefully post some details about the trip here soon, so stay tuned!
New music: I got DJ Fukutake (aka friend Fukuta Takeshi (8-bits))'s non-stop mix CD "yaba-kayō"! It's full of the lesser known Japanese songs from the 70's and 80's, and only ones that are good for a fun "yabai!" party mood. Highly recommended!

Music release news: Kyary Pamyu Pamyu
(lots of other releases to catch up with... ohh...)

- Also don't miss this Hatsune Miku pocket keyboard gadget coming in April!
This week's videos:
hitomitoi "Snowbank Social Club" short film music video
Kathputli (Rajasthan puppets)
Outside Narain Niwas Palace Hotel, Jaipur, India on February 21
Posted on March 1, 2014 at 16:32 | Permalink | Trackback (0) | Comments (0) | Tweet |
---
February 14, 2014
Weekly revue 2014 week #7 (February 8 to 14)
Last weekend we got a lot of snow, and then it went away, and then today again it's snowing a lot!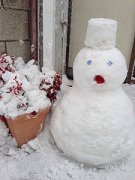 Btw, I didn't make this snowman! Just found it on the street. :)
Food: - Curry & more at South Indian restaurant Pondy Bhavan, Musashi-Niita
- Curry lunch plate at Sri Lankan restaurant Acala.naatha, Nakano
- Cottage pie, pork & apricot pie, spicy chicken, fish & chips, etc. at Bespoque, Higashi-Nakano
New music: Some free tracks for Valentine's day! Grab them right now before it's too late. :) & Happy Valentine's Day!
- HNC "YUKI NO FURU HI"
- Fantastic Explosion "Chocolate 2014" remake by Yoshida Tetsuto
- Find more at Make Believe Melodies!
Music release news: Kinbara Chieko, DJ Fukutake, Wonder Headz
Playlist: hitomitoi, blue marble, The Nanbatatin, Aira Mitsuki, esu-efu
This week's videos:
Sugar's Campaign "otokano"
Wonder Headz "wonder wanderer"
Posted on February 14, 2014 at 23:23 | Permalink | Trackback (0) | Comments (0) | Tweet |
---
February 8, 2014
Weekly revue 2014 week #6 (February 1 to 7)
Food: - Curry at South Indian restaurant Nandori, Oku (Arakawa-ku)
- Parfait forêt noire at Acacier Salon de thé, in Urawa, Saitama
- The next day at Sunday Bake Shop I found two favorites, a red velvet cupcake and black forest cake (again)! Of course I couldn't resist. :)
- Also had a fun home party with lots of good food and good music!
New music: - I got The Nanbatatin's "girlz.reteru.talk", a collaboration of Nanba Shiho with Tarte Tatin. The album fits very well in line with Tarte Tatin's other albums in terms of sound, despite being produced by someone else, and despite both members of Tarte Tatin having been replaced (for the 2nd time). Anyway this is a very fun album!
- The new Cibo Matto, "Hotel Valentine", has landed earlier than expected! It can be listened to in full here! Love it! I really hope they'll play in Tokyo sometime soon. The Japanese edition will have 2 bonus tracks, so I think that's the one I'll get!
Music release news: Nakatsuka Takeshi, The Nanbatatin, Yun*chi, Perfume
Playlist: Towa Tei, Cibo Matto, capsule, Vanilla Beans, The Nanbatatin, Hoshino Michiru
This week's videos:
Dudu Tsuda feat. Nomiya Maki "Triste (Pizzicato Five)" (live last month in Tokyo)
(More here.)
The Nanbatatin "girlz.reteru.talk"
Posted on February 8, 2014 at 00:59 | Permalink | Trackback (0) | Comments (0) | Tweet |
---
February 1, 2014
Weekly revue 2014 week #5 (January 25 to 31)
Food: - Curries (chicken, spinach & satoimo croquettes, and deep fried tofu & micro-sardines) at Tapir, Shin-Ōkubo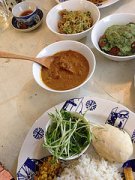 Parties: - This year again I had the chance to go to "Snack Mitsuo", a special birthday party for art director Shindō Mitsuo who turned 66! The party was also the inauguration for new sake "shōshū raifuku" (笑酒来福) for which Shindō-san chose the name and did the calligraphy. The party had free sake and drinks and also sushi prepared by Bijin-zushi.
The party also had shows by The Scooters (Shindō-san's band) and new wave unit RIS (aka r_i_s_u aka risu). The Scooters did an acoustic-ish set with Sally Kubota on woodbass. There was also a DJ set by Nomiya Maki and Noboru! Maki sang "kimi mitai ni kirei na onna no ko" (karaoke-style), a special song for me from the "Playboy Playgirl" album. There was also some sexy dancing that managed to make the 38th floor view even better.
- Then on Sunday was another party for Sunday Bake Shop's 5th anniversary! Congrats! Thanks always for the great food and fun times. :)
Stuff: I got a "Hakovision", a new product released this week and that's already hard to find because of its popularity. Hakovision ("hako" means "box") is a small box that contains a small reproduction of a building, and placing your phone above with a specific movie playing gives you a miniature 3D projection mapping show in a box! It's wonderful, but very tiny! So far I could only find the Tokyo Station edition. There's another one of the Tokyo National Museum, and a Gundam series will be coming in April. What I'd like is one of Denki Groove's projection mapping from their Tour Panda of last year!
New music: - I got hitomitoi's new album, "Snowbank Social Club"! This is again a nice city pop album along the lines of the previous ("Surfbank Social Club"), maybe this time a bit more electro/synth-oriented.
- I also got two 7"'s, one is Hoshino Michiru's latest single, "Magic Hour". Both songs are really great! And Vanilla Beans' first 7" "Jewel Memories / Scone no hana ga saiteiru".
- And also, I downloaded "hop step junk" a free album by mig, side-project of a member of Yucca. mig has for motto to use only cheap used instruments, mostly junk-ish ones bought at "Hard Off" (a chain of second-hand stores of the Book Off family). A quite nice lo-fi electro-punk album! Grab it here.
- Last but not least, MoliquL (friends Tsugumi & Avery) has released a new digital EP, "Into the Night"! I love those two new tracks, and the remixes are great too!
Music release news: Kyary Pamyu Pamyu, MoliquL, shippai shinai ikikata, Kafka's Ibiki
Playlist: (((sssurrounddd))), Hoshino Michiru, Pizzicato Five, MoliquL, hitomitoi, mig
This week's videos: RIS "Not Too Bad"
playtime rock "This Is Love"
Posted on February 1, 2014 at 22:12 | Permalink | Trackback (0) | Comments (0) | Tweet |
---
January 25, 2014
Weekly revue 2014 week #4 (January 18 to 24)
Food: - Dinner at French restaurant La Coupe d'Or, Shirokane-Takanawa. Delicious food and perfect service! Recommended! :)
- Poulet yassa at Los Barbados, Shibuya
Event: Went to an autograph session by manga artist friend Maki Hirochi. Her 4th volume of 「いつかティファニーで朝食を」 ("It will be breakfast at Tiffany's someday") was published this month. Each chapter of this series always takes the characters to eat breakfast at various restaurants that really exist in Tokyo (and sometimes other cities of Japan), all of which are drawn in great detail.
Music release news: Tokyo Girls' Style, "Disney Rocks!!! Girls Power!", Yakushimaru Etsuko, "'Sailor Moon' The 20th Anniversary Memorial Tribute" (Konishi Yasuharu track!)
Playlist: Tomoki Kanda, Elektel, blue marble, Portable Rock, YMCK, Dorian, Buffalo Daughter
This week's video: mig "Disco"
Cibo Matto "MFN" (oops, I posted this before, but I'm getting really excited about "Hotel Valentine"!)
Posted on January 25, 2014 at 08:59 | Permalink | Trackback (0) | Comments (5) | Tweet |
---
January 18, 2014
Weekly revue 2014 week #3 (January 11 to 17)
Photos: - We went to event "machi ichi! mura ichi! 2014" at Tokyo International Forum, a fair with lots of food from all parts of Japan. There were many mascots too! More here.
- Happened to see a truck with some horses in Hatagaya, and the next day there was a cowboy trotting up a street in Yoyogi-Uehara! Seemed to be the same horse.
Food: - Sticky toffee pudding, Victoria sponge, ginger & white and more at Sunday Bake Shop, Hatsudai
- Takoyaki and strawberry & yogurt kakigōri (shaved ice) at Minato-ya, Sasazuka
- Galette des rois from Réfectoire by Le Petit Mec, Harajuku. We had coffee there too, and there happened to be instrumental live music by background of the music which was nice.
- Meals at Andhra Dining, Ginza
- Hiroshima-yaki (okonomiyaki) at Sanshou, Ginza
- Lunch at Chinese restaurant Taikoo Shing, Shibuya. This restaurant was featured on TV series "taberu dake" that I watched entirely. :)
Music event: Went to see Au Revoir Simone on January 13 at Shibuya O-Nest! That was awesome! I thought the same last time I saw them 4 years ago (at the same place), their show would please any synth fan.
All the other bands were great too. First on was little moa, group of Moonriders' Okada Toru's daughter. The band has a quiet electronic sound, with glockenspiel and euphonium (see video below). Next was Junjun + Babi, two girls who sang in soft voices, sometimes in French. There were some nice short instrumentals too. Then was singer-songwriter sugar me who played a solo acoustic show with just her guitar. Aside from original songs from the album, she played a great cover of Leonard Cohen's "Hallelujah", a special song for me that I had the chance to see Jeff Buckley play live. I bought her album "Why White Y?" and got her autograph!
To those who missed this show, Au Revoir Simone be playing the same venue again tomorrow January 19, with Chocolat & Akito and milk.
Movie: Got to see Chinese/Korean movie "A Wedding Invitation" a bit early, thanks to a nice friend who was involved with promotion. Quite a charming and touching film. It will start in theaters here on March 1st.
Music release news: Terunuma Fareeza to Shūkyō, "Tonchi Compi", yashka, Elekibass, hitomitoi
Playlist: sugar me, the fascinations, MoliquL, Negicco, playtime rock, Aira Mitsuki
This week's videos:
little moa "Promenade"
sugar me "As You Grow"
Au Revoir Simone "Somebody Who"
Terunuma Fareeza to Shūkyō "kakkoii"
Posted on January 18, 2014 at 20:25 | Permalink | Trackback (0) | Comments (0) | Tweet |
---
January 11, 2014
Weekly revue 2014 week #2 (January 4 to 10)
Food: - Sri Lankan curry (and not-so-Sri-Lankan curry) at Coji-coji, Mito
- Special thali at Gopinatha, Nakano
- Galette des rois (chocolate) and more from Maison Weniko, Mito
- Galette des rois (sanshō & hazelnuts) from Gontran Cherrier, Shibuya
- Galette des rois (chocolate, passion fruit & coconut) from Ladurée
New music: - Not actually new since I already had it on CD, but the first music I bought this year is Nomiya Maki's "Pink no kokoro" on vinyl, which almost jumped at me at record shop Vinyl Machine (Mito). Looking at the liner notes I realized again how the Moonriders were deeply involved in this album, including Okada Tōru (CTO LAB.) who did many arrangements, and drummer Kashibuchi Tetsurō who passed away at the end of last year. I love this album!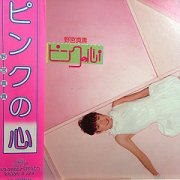 - New track from Chromeo! "Come Alive feat. Toro y Moi"
Music release news: Especia, YMCK, Polysics, Yucca, the fascinations
Playlist: Au Revoir Simone, YMCK, frenesi, Dorian, Denki Groove, Tarte Tatin
This week's video: Yucca "You are right"
Posted on January 11, 2014 at 12:34 | Permalink | Trackback (0) | Comments (0) | Tweet |
---
January 5, 2014
Weekly revue: 2014 week #1 (December 28 to January 3)
Happy New Year! All my best wishes for 2014!
This year started slowly and eventlessly, like it should. I was able to catch up with some things I wanted to get done, like moving a site to a different host and making a tool I had been thinking of for a while.
Food: - Galette et crêpe dessert à comme des journaux, Ogikubo
- Curry at Sharidesu, Nakano
Music release news: Tokyo No.1 Soul Set, Kinoco Hotel, Harada Ikuko & Wisut Ponnimit, MEG, "Nintendo Famicom Music", lyrical school, Hikashu, Pecombo, "Nameko no CD 2", Every Little Thing/Konishi Yasuharu, Hanazawa Kana, Sakamoto Ryuichi, Riow Arai, 80KIDZ, "PARK compilation 01", Nakatsuka Takeshi with Iga-Bang BB, FPM, "Sauna Cool 1"
Playlist: Au Revoir Simone

Posted on January 5, 2014 at 22:59 | Permalink | Trackback (0) | Comments (0) | Tweet |
---
Continue reading in the December 2013 Archives.
Next entry: "Weekly revue: 2013 week #52 (December 21 to 27)" (December 28, 2013 at 21:33)
Archives
2014: March February January
2013: December November October September August July June May April March February January
2012: December November October September August July June May April March February
2011: November October May April March
2010: August May April March February January
2009: December November October September August July June May April March February January
2008: December November October September August July June May April March February January
2007: December November October September August July June May April March February January
2006: December November October September August July June May April March February January
2005: December November October September August July June May April March February January
2004: December November October September August July June May April March February January
2003: December November October September August July
Syndicate this site: RSS 1.0/RDF RSS 1.0/RDF Comments
Blog powered by Movable Type Open Source 4.1 (Movable Type 日本語版について), moblog powered by Flickr Contact et hop dans le pot de miel