Blog
chipple.net
May 19, 2013
Weekly revue: 2013 week #20 (May 11 to 17)
Food: - Had a nice dinner course at Re:gendo in Nishi-Ogikubo. The restaurant opened in 2011 beautifully reusing a traditional Japanese house (kominka). The food was good and reasonably priced too!
- Macaron et chocolat, Nishi-Ogikubo. It was a rainy day and they gave customers a special tiger macaron rusk.
- Quesadillas, nachos, etc. at mexican restaurant El Quixico, Nishi-Ogikubo
- Also I went to Yoyogi Park at 8:30am on a weekday for a breakfast surprise picnic party for a friend! We all brought some food and had breakfast together before going to work. The weather was just right and it was a great way to start the day! :)
- Not food, but while in Nishi-Ogikubo we visited "a small shop". As the name says, it's a small shop, which sells various things by different craft artists. The owner is a clothes designer (the brand is called "a" (read "small a")) and her works are also displayed and sold at the shop.
Live event: I went to see The Scooters live at mona records, Shimokitazawa, the neighborhood of leader Shindō Mitsuo. The place was packed, and the show was just wonderful! I'm so glad I could see and hear this again: the girls' voices and saxophones, Shindō-san's glockenspiel, Turban's entertaining personality, and Sally Kubota's bass, etc. I'm looking forward for more from The Scooters!
1st set: Intro / Stop! In the Name of Love + Motown medley / Love+Love / L.O.V.E (Nat King Cole cover) (Turban Chana Jr. on lead vocals) / Breakaway (cover of Irma Thomas) (Lucy on lead vocals) / Loveless / Ghost (Jackie on lead vocals) / Theme of The Scooters
2nd set: Heat Wave / kanashii uwasa / Hey girl / kamisama onegai / Remember / You can do that (cover of The Beatles) / Shout
Encore: Tighten Up (cover of Archie Bell & The Drells) / Tokyo Disco Night
(For a full report of another show of theirs, go here.)
Music release news: fox capture plan, lyrical school
Playlist: Maezono Naoki Group, Vanilla Beans, Breakbot, Takako Minekawa & Dustin Wong, Kyary Pamyu Pamyu, Kinoco Hotel, hitomitoi, Nosa Reina, The Scooters
Posted on May 19, 2013 at 12:41 | Permalink | Trackback (0) | Comments (0) | Tweet |
---
May 11, 2013
Weekly revue: 2013 week #19 (May 4 to 10)
Last week was Golden Week! 4 public holidays stuffed in one week, although this year two fell on a weekend (one shifted to a Monday), so there were a total of 3 days off. This year they were separated by 3 normal weekdays, giving for 2 long weekends (3 days and 4 days). Some people take those days off to enjoy a long vacation (so did I last year), hence the Golden Week name. This year I just enjoyed the two longer weekends.
Outing: - We went for a ride on the latest (2nd) boat designed by Matsumoto Leiji (Galaxy Express 999, Captain Harlock (Albator), Interstella 5555, ...)! Its name is Hotaluna, and it's bigger than the previous Himiko. Hotaluna has a feature to let people go on the roof! The route has two legs to choose from, Asakusa-Hinode and Hinode-Odaiba. We went from Hinode to Asakusa, and maybe because of the number of bridges on the way, access to the roof was closed. Still a very nice ride on a cool spacey ship, and it's a fun alternative way of transport. We'll have to go for Odaiba next time. :)
- On the way we got closer and closer to Tokyo Sky Tree, and since we hadn't been nearby since its opening we decided to walk there from Asakusa. This time we only looked at it from below, maybe the best way to enjoy it. We also spent some time looking around its Solamachi mall. All restaurants were crowded so we wended up at a small local Chinese restaurant not far.
Food: - We went again to Tapir. in Shin-Okubo, this time to enjoy the 2nd half of the food trading event. In the 1st half customers gave various kinds of food, and in the 2nd half that food is used to make many different things (the menu changes throughout the day). It was great! We even tried going one more time but it was already closed.
- I can never resist trying a black forest cake. We found this one found at Park Hyatt's Pastry Boutique. Very good (pricey though), though no cherries inside, just jelly.
- Later in the week I had another black forest cake from Sangenjaya's Octobre, it was great!
Music release news: Cold Name, (((sssurrounddd))), Nakatsuka Takeshi, Ino Hidefumi, Kyary Pamyu Pamyu, Perfume
Playlist: Kinoko Hotel, Rcoride, YMCK, MoliquL, Towa Tei
This week's videos:
Vanilla Beans "Muscat Slope Love" (produced by Kaji Hideki!)
Kyary Pamyu Pamyu "Invader Invader"
Posted on May 11, 2013 at 13:36 | Permalink | Trackback (0) | Comments (0) | Tweet |
---
May 4, 2013
Weekly revue: 2013 week #18 (April 27 to May 3)
Food: - Chicken cutlet lunch plate at Newport, Yoyogi
- Lunch at Tapir, Shin-Ōkubo. This weekend is a two-part event, during the first two days customers bring some food (something non-cooked and that doesn't perish too soon) in exchange of a free meal, and during the last two days the restaurant makes a menu from the food that people brought, and the price paid is decided by the customer. A very strange system, especially to people who enter the restaurant without knowing. :)
Photos:
Exhibition: - Went to see suzueri's "recursion piano" installation at Gallery 20202 in Yoyogi. A number of modified toy pianos are chained together in different ways, eventually a key is pressed and a signal of some form is launched towards the next piano, forming an endless loop (if things go well). The artist was there to tune things and explain the system.
Music event: - I went to see Vanilla Beans (with a live band!) and Kaji Hideki! My report is up here.
Music release news: tofubeats, Original Love, Muro, michirurondo, Kinoco Hotel, Sexy-Synthesizer feat. Chihiro, Vanilla Beans
Playlist: Vanilla Beans, Sunahara Yoshinori, FPM, Chromeo, "kimi ni naritai."
Tech: I started using iPhone app TrackRec which is a GPS logger that exports in GPX and other formats. It does just as fine as my good old hardware GPS logger (Sony GPS-CS1), actually it's even better, and it's free! I was able to use the data with my Flickr GPS Geotagger.
This week's videos:
ya-to-i "tonaeru yo"
Shizuoka prefecture promo clip w/ song by Hosono Haruomi & Cornelius, vocals by Pierre Taki (Denki Groove)
Posted on May 4, 2013 at 20:03 | Permalink | Trackback (0) | Comments (0) | Tweet |
---
April 27, 2013
Weekly revue: 2013 week #17 (April 20 to 26)
Food: - Saag chicken curry at Café Orchestra, Nishi-Ogikubo
- Coffee float at Renoir
- Malaysian dinner at Malay fūkō bishoku (馬来風光美食), Ogikubo
- Ice cream from Ben & Jerry's, Harajuku (... It had been so crowded since it opened, this was my first time! Love it!)
Music event: On Sunday April 21 I went to a large event titled "KAWAii!! MATSURi" with some friendly colleagues. We got to see Hanae, Nanba Shiho, and... Kyary Pamyu Pamyu!! It was my first time seeing a full show of hers. A very tight show with lots of energy, it made me really happy!
Kyary Pamyu Pamyu set list: Kyary no March / Fashion Monster / minna no uta / Invader Invader / kimi ni 100 Percent / Unite Unite / ninjari Bang Bang / PONPONPON / Kyary ANAN / tsukematsukeru
I won't write a report about this one (though you can read a report of her show in New York the week before), but I did write a report for the "Joy Ride" event I went the previous Friday.
Music release news: Kero Kero Bonito, Muro, Yumiko Morgan Oscillators?
Playlist: Kahimi Karie, Kaji Hideki, Fantastic Plastic Machine, Pizzicato Five, "Groove Catch Limited Edition 2012", CTO LAB., Vanilla Beans, hitomitoi, Nakatsuka Takeshi
This week's video: Frenesi "Pure Shampoo" (full version)
Posted on April 27, 2013 at 02:06 | Permalink | Trackback (0) | Comments (0) | Tweet |
---
April 20, 2013
Weekly revue: 2013 week #16 (April 13 to 19)
Food: - Poulet Yassa at Los Barbados, Shibuya
- Gelato (dates, almond soy sauce, fig, chai) at Far East Bazaar, Hikarie B2F, Shibuya
- Hokkaidō beef burger at Gotham Grill, Ebisu. They changed fries for onion rings with no problem. :)
- Pork and squid lunch at Miniyon, Shibuya
- Chicken pho & vietnamese yakitori at Chopsticks, Kōenji
Exhibition: Street artist ESOW has a solo exhibition that started last weekend inside of 55DSL in Harajuku. A whole room is filled of his paintings and various objects. Definitely worth a check! I also picked up the limited T-shirt. The exhibition goes on until June 30, and different works are shown at the same time at the shops in Nagoya and Kobe.
Music events: - On Monday I went to "Prost!", an event presented by Delicatessen Recordings at Batica, Ebisu. I got to see P.O.P ORCHeSTRA and Dorian! Dorian's technique always amazes me, sequencing his tracks on the fly on his MC-909. There were so many new sounds I hadn't heard before. My guess is that he must have a new album in the works. Crossing my fingers!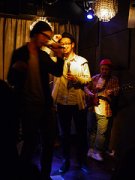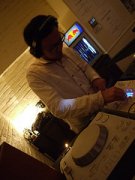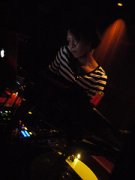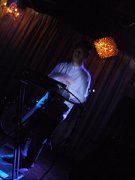 P.O.P ORCHeSTRA, TAKAHASHI Masaru, KAZYANIGHT, DORIAN
- On Tuesday was Takako Minekawa & Dustin Wong's 2nd show! I had seen them just the month before (report), but I went again, and it was great! The show was held at event space Kichimu in Kichijōji. My friend Yuya who went along wrote a great report on his site ICON.jp, with photos and details about all their gear. After the show I got to talk briefly with Takako and Dustin! They were really nice too! :) I'm really looking forward to the album to be released next month.
- And on Friday was event "Joy Ride vol.133" at Koenji High featuring CTO LAB., and also soyuz project and NeoBallad. All acts were great! I'll have to write this up later. Meanwhile here are photos I took of CTO LAB. (More at Flickr)
Playlist: Denki Groove, Vanilla Beans, Buffalo Daughter, Kavinsky, Kero Kero Bonito, frenesi, Rodion
Tech: Facebook seems to have made changes its OAuth flow recently. My app used to be able to obtain the access_token from the authorization code, without specifying the app's redirect_uri, but that stopped working. I had to fix my code to work around that.
This week's video: Hasebe Novko "bunta to watashi"
Posted on April 20, 2013 at 17:14 | Permalink | Trackback (0) | Comments (0) | Tweet |
---
April 13, 2013
Weekly revue: 2013 week #15 (April 6 to 12)
Last weekend the weather was rather bad, and also it remained cold for most of the week. Still on Sunday we went to Shinjuku to meet a couple of friends who had just arrived from Taiwan for vacation. After a bit of window-shopping we went to have kushikatsu. They gave us a box of pineapple cakes of a brand we hadn't tried before. I always love pineapple cakes, but these were delicious! :)
On Thursday I went to karaoke with friends from work, we all sang songs while trying to respect an "idol" theme. Fun! :) On Friday I watched an event held at 2.5D on Ustream, featuring DJs Yoshida Tetsuto (8-bits) and Hase Yasuhiro (Yume to Cosme), MC Edobor (who I had just seen DJ the week before), and a show by idol group t.c. princess (aka Tekupuri) from Sendai. The songs they sang sounded like they borrow from Pizzicato Five, Perfume, Yasuda Toshiyuki, Denpa Gumi, all pretty good.
New music: I got Towa Tei's new single from MachBeat! Two new instrumental tracks, good stuff! This comes ahead of a new album, but no details yet about when it will be released. The 2nd track on here is a special short edit (still over 6 minutes) of a track said to be 15:45..!

Music release news: Yakushimaru Etsuko, Tamaki ROY, Tarte Tatin
Playlist: Breakbot, "Yellow Magic kayōkyoku", Hosokawa Fumie, "Techno Magic kayōkyoku", Perfume, Tomoki Kanda, Dorian
Tech: Last weekend, because of the rain, I decided to clean my computer's CPU fan some more. I did a little mistake though, I removed the fan/heatsink from the the CPU without thinking of the CPU grease that's in between... The grease was all dry which probably didn't help conducting the cooling. So I went to buy "high-density polysynthetic silver thermal compound" (Arctic Silver 5) and a little spatula to spread it. I also got strong wet tissues to clean the surface before applying. As a result, I was able to render video without any tuning (before, the CPU would heat up and the computer would shut down within about 2 minutes of rendering), and also it seems to be more quiet than before (thanks to a close fan cleaning using the vacuum cleaner). All good!
I noticed CPU temperature is still a bit high when rendering video though, so maybe when rendering for a longer time I'll have to watch CPU temperature (with Core Temp) and gauge CPU usage (using BES).
This week's video: Yakushimaru Etsuko "Lonely Planet" (from album "Radio Onsen Eutopia")
Posted on April 13, 2013 at 00:29 | Permalink | Trackback (0) | Comments (0) | Tweet |
---
April 6, 2013
Weekly revue: 2013 week #14 (March 30 to April 5)
Food: - Curry at Tapir (Shin-Ōkubo), Cochin Nivas (Shinjuku), and Pakumori (Shibuya)
- Bread from Kuropanya, Shin-Egota
- Cakes from Sunday Bake Shop
- Galette bretonne at Breizh Café Crêperie, Shinjuku Takashimaya
Art events: - We went to a screening of the first movie by director Matsukage Hiroyuki, short film "sunayama" (18 min., trailer), featuring Aida Makoto. The event also featured MC Yamada Hirono (underground filmmaker who does live narration over his films), who screened a few of his films that featured Matsukage as an actor.
Also shown was another new movie, "ouse" (2013, 37 min.) by director Kaneko Masakazu (who did cameras on "sunayama"). This movie also starred Matsukage as an actor. (Sorry this is getting confusing.)
There was a talk session with Matsukage Hiroyuki, Aida Makoto, and manga artist/columnist Shinsan Nameko.
- Exhibition by graffiti artist "ROUSOKU" (aka Z¥$). Various works and photos can be seen at Tokyo Cultuart by Beams, until April 10 (info).
- We had the opportunity to meet interesting pottery artists Riyoo Kim and Shinozaki Yumiko, who were just back from a group exhibition in New York. Both will have exhibitions in Tokyo in the following months so I'll post details later. Thanks Jiro-san for introducing us!
Music events: - On Wednesday I dropped by Acid Panda Cafe in Shibuya for a DJ event of Fukuta Takeshi (8-bits) and Edobor. Together the two form B2B DJ unit "beach on the S*X". Fukuta Takeshi first played a set of 7" vinyl only, followed by an Edobor set of 8cm (3") CDs only! Then were free sets by the two, but I had to leave not too late. I'm pretty sure they must have done a performance of their fun B2B unit later in the evening.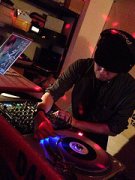 - And on Friday, I went to Tower Records in Shinjuku for an in-store live by Kaji Hideki! He was accompanied just by flutist/saxophonist Nari-san, who is often part of his live band. I really like Kaji-kun's latest album "Sweet Swedish Winter", which he explained is a sort of an acoustic break between bigger albums. He can be caught live on April 18 at Star Pine's Cafe (Kichijoji, info).
Set list: amai koibito / Sweet Swedish Winter / Milk Walk / shitauchi Girl (?, new song for this TV commercial) / anettai Girl
Outing: Went to "cat temple" Jishō-in in Ochiai-Minami-Nagasaki (Shinjuku-ku). The temple contains a large cat statue displayed only once a year on March 2. We'll have to go again next year to see this!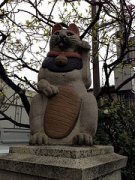 Music release news: RF, Taketatsu Ayana
Playlist: Kaji Hideki, InK, Kaseki Cider, Dorian, Nakatsuka Takeshi, Cotton Candy, Bakubaku Dokin, Buffalo Daughter, Honda Yuka
This week's videos:
Takako Minekawa & Dustin Wong "Party on a Floating Cake" from upcoming album "Toropical Circle"
Yakenohara "CITY LIGHTS" from album "Sunny New Life"
(Dorian @ 03:25 :))
Posted on April 6, 2013 at 14:18 | Permalink | Trackback (0) | Comments (0) | Tweet |
---
March 31, 2013
Weekly revue: 2013 week #13 (March 23 to 29)
Food: - Agneau Pascal found at Dean & Deluca
- Sakura (Hatsune) Miku anman from FamilyMart
- Tarte Rose Jasmin from Pierre Hermé
- Coffee break and bread at Breadworks (next to T.Y Harbor), Tennōzu Isle
Exhibitions: - Went to see the "Side Core" exhibition at Terratoria (Terrada Sōko) on Tennōzu Isle. Included are works by QP and EYE (Boredoms). QP's huge piece was "no photo", so those who can should go see it.
- Also, I dropped briefly by the UT (Uniqlo) pop-up shop located on the old platforms of Tokyu Tokyo line in Shibuya station
Encounters: - Street artist ESOW was saying on Instagram that he's going around Harajuku to sell handmade leather keychains, so we went after him and got some.
- We got to meet a local tattoo artist, and spent a while talking about street art. He was very friendly and told us a lot of interesting things about his work and passion, despite that it's not likely that we'll ever be his customers. We'll drop by again!
Photos: It was the right time for sakura (cherry blossoms) watching here and there, almost over now. Here are a few photos I took.
Music events: - On March 24, I went to see Takako Minekawa and Dustin Wong! I won't write more here, go see my report. I'll go to their next show on April 16 too!
- And on Friday March 29, I went to an event on JICOO Floating Bar (the "Himiko" boat designed by Matsumoto Leiji (Galaxy Express 999, Captain Harlock, Interstella 5555)) featuring Ookawara Izumi of Qypthone! I took video of the show, which you can watch on YouTube (5 songs!)! The show and DJing was fun, and of course the Himiko ride!
Music release news: "The Selection of DE DE MOUSE Favorites performed by Rokugen Club with Farah a.k.a. RF vol.01", Predawn, Takako Minekawa & Dustin Wong
Playlist: Miyauchi Yuri, MoliquL, HNC, Denki Groove, Chiroline ver.2, Kavinsky, frenesi, Nakatsuka Takeshi, Hosaka Akane, Dorian
Tech: I always felt that editing video isn't easy. Lately I found what seems to be a good free editor, VideoPad. But whatever editor I use, video encoding seems to overheat my CPU which makes the computer shut down suddenly after a few minutes. I wonder what hardware change could fix this... Hmm. This time I gave up and just used YouTube's built-in video editor instead, but I want to become able to edit video more freely.
This week's video:
Izumi Ookawara (QYPTHONE) live on JICOO Floating Bar (5 songs!)
(I took this video. :))
Predawn "Keep Silence"
Posted on March 31, 2013 at 23:50 | Permalink | Trackback (0) | Comments (0) | Tweet |
---
March 23, 2013
Weekly revue: 2013 week #12 (March 16 to 22)
Last weekend was rather quiet, except that a friend gave birth to a baby girl on March 14, and we went to see her at the hospital! Congratulations! :)
Food: - Lunch at Réfectoire (Le Petit Mec), Harajuku
- Curry at Curry Ohio, Nishi-Ogikubo
- Also, Wednesday was a national holiday and cherry blossoms were already showing up, so we went to have a great picnic with Sunday Bake Shop and friends, at Shinjuku Gyoen. Towards the end it got a bit windy but otherwise the weather was nice and we had a great time! :)
New music: I got Kyary Pamyu Pamyu's new single "Ninjya Re Bang Bang" (digitally this time, for now anyway). I like the lead track, which is full of 8-bit goodness. I'm not yet too sure about the B-side ("Unite Unite"), but I'm happy with the extended mix of "minna no uta", a song that I like a lot from her album. I like how it's a song about getting everyone to clap together, but yet she sings in a voice that sounds a bit uncertain.

Playlist: Vanilla Beans, CTO LAB., hitomitoi, Petset, Cornelius, Minekawa Takako, Perfume, Arasawa Fumika, Hamada Mari, Tarte Tatin, the hair
- I relistened to all of Minekawa Takako's CDs I had on hand ("Roomic Cube" and "fun9" are in Canada...), as I'll be seeing her live this weekend for the first time! Can't wait! "Cloudy Cloud Calculator" still sounds as wonderful as it used to, and I like "Telstar" more than ever.
Music release news: Tucker & Emeson Kitamura, BUBBLE-B feat. Enjo-G, Misola, Kirinji
Gig report: Event "Monochromoon!" w/ Tabuchi Jun, Nosa Lena, Nacional, DeliciouSweets (March 6 at tsukimiru kimiomou)
Tech: I've been confused about what to do since Google Reader will be closing soon (damn!). After trying a bunch of feed readers, the best option seems to be Feedly (thanks to Jean for recommending it!). Feedly also adds a social sharing feature to Firefox and Chrome (a mini toolbar in the bottom right of the browser), and I noticed that it didn't have a mixi Check button so I made a UserScript that adds it in there. Those who want the UserScript can get it here.
This week's video: Old Monk "Telephone Bones"
Posted on March 23, 2013 at 13:20 | Permalink | Trackback (0) | Comments (0) | Tweet |
---
March 16, 2013
Weekly revue: 2013 week #11 (March 9 to 15)
Food: - Thai and Myanmar curry at Bamii, Kōenji. The old café is full of records, and the curry was good too!
- French bistro Organ, Nishi-Ogikubo
- Homemade red velvet cake!
Exhibitions: - Julie Watai's "My Computer Magic" at P/I Gallery, Shibuya Parco (Part 1 6th floor). Displayed are various photos by the photographer/model/tech geek, and also a figure of herself created with a 3D printer, and a costume with lightings controlled by an Arudino board. All photos can be downloaded for free via QR codes! Until March 18.
- Went to a sugar sculpture exhibition by artist Ameshin aka Tezuka Shinri. There are many of the small and precise sculptures. This is held until Sunday March 17 only (until 20:00) at Tensai-sansūjuku in Asakusabashi. Entrance is free but you must order a drink (¥500). Event Facebook page here.
Music events: - I went to Enban to see electronic artist Akane Hosaka, who released new album "pikkonoco" towards the end of last year. I have seen her many times before, which was usually made of songs from her albums, but she now does an improvised show using a Pocket Piano, a modified TR-505, and a looping.
- And on Wednesday I went to see Denki Groove at Zepp DiverCity in Odaiba. That was a big show! The first part of it used projection mapping on large 3D face sculptures on the stage, that was really awesome! The two first appeared wearing hospital clothing, with Ishino Takkyu sitting on a trolley with an IV stand, and Pierre Taki pushing him. They played over 20 songs in total. I had a great time! This show is expected to be released on DVD.
Set list (partial): The Big Shirts / Missing Beatz / Shameful / Zoo Desire / Mononoke Dance / (mc) / Slow Motion / Oscillator To Arpeggio / Disco Union / Hi-Score / B.B.E / (mc) / P / Prof. Radio / Oyster / Upside Down / (mc) / The Words / Flashback Disco / Shangri-La / Shonen Young / N.O. / Asunaro Sunshine / Reaktion / (encore) Denki Biribiri / Cafe de Oni
New music: Forgot to mention it last week, I got a 7" split single by keyboardists Tucker & Emerson Kitamura. 4 instrumental nice good-feeling tracks. Availability online had been flaky, but it just showed up again on Jet Set so I wrote it up here. Highly recommended!
Music release news: Sloppy Joe, Kyary Pamyu Pamyu
Playlist: "kui tan" soundtrack (Konishi Yasuharu), Denki Groove, Kavinsky, Vanilla Beans, CTO LAB.
Tech: I made a userscript for use on mixi. It changes the "イイネ" (like) links to "イイニャー", and when clicked it plays the sound of a cat meowing. :) It can be downloaded here (works with Chrome, Firefox and Opera).
This week's videos:
BUBBLE-B feat. Enjo-G "Yo! Sexy Girl"
Kyary Pamyu Pamyu "Ninjya Re Bang Bang"
Akane Hosaka album "pikkonoco" sampler (I made this! :))
Posted on March 16, 2013 at 15:09 | Permalink | Trackback (0) | Comments (0) | Tweet |
---
Continue reading in the March 2013 Archives.
Next entry: "Weekly revue: 2013 week #10 (March 2 to 8)" (March 9, 2013 at 00:46)
Archives
2013: May April March February January
2012: December November October September August July June May April March February
2011: November October May April March
2010: August May April March February January
2009: December November October September August July June May April March February January
2008: December November October September August July June May April March February January
2007: December November October September August July June May April March February January
2006: December November October September August July June May April March February January
2005: December November October September August July June May April March February January
2004: December November October September August July June May April March February January
2003: December November October September August July
Syndicate this site: RSS 1.0/RDF RSS 1.0/RDF Comments
Blog powered by Movable Type Open Source 4.1 (Movable Type 日本語版について), moblog powered by Flickr Contact et hop dans le pot de miel