Blog - September 2017 Archives
September 2017 Archives
Index
.30 Weekly revue: 2017 week #39 (September 23 to 29)
.23 Weekly revue: 2017 week #38 (September 17 to 22)
.17 Weekly revue: 2017 week #37 (September 9 to 15)
.10 Weekly revue: 2017 week #36 (September 2 to 8)
.03 Weekly revue: 2017 week #35 (August 26 to September 1)

---
September 30, 2017
Weekly revue: 2017 week #39 (September 23 to 29)

Food: - Fish & chicken curries at Indo Fujiko, Kōenji
- Soft serve ice cream at Fukushimaya, Akihabara

Music events: - I went to see SOLEIL's in-store mini-live at HMV record shop Shinjuku Alta, following the release of first single "Pinky Fluffy"! Singer Soleil, bassist & producer Sally Kubota (Sally Soul Stew, Les 5-4-3-2-1, ex-Phantom Gift) and guitarist Nakamori Yasuhiro (Hicksville, Sally Soul Stew) performed on stage. The first played "Pinky Fluffy" (music by Takanami K-taro) and then "Breakout" (cover of Swing Out Sister), which was followed by an encore of "Pinky Fluffy" one more time. I bought the single there and got autographs by all three members. Yay!! :)

A release party will be held on October 15 at Shinjuku Red Cloth from 17:00. I can't wait!

- I went to "Delica Lab" at Batica in Ebisu, a regular event organized by Nakatsuka Takeshi (Qypthone). This time the other bands playing were Somethiing New (piano + trumpet duo), it's Me. (the recent unit of Ookawara Izumi and Hossy) and Small Circle of Friends! All were great! As always the event's schedule is quite busy, with 20-minute live sets on the 2nd floor in-between which there are 20-minute DJ sets on the 1st floor. Lots of good music!

On the way out I got Studio75 (aka SCOF)'s "Coffee Shop Card" CD, which comes packed in a coffee pouch. It contains 30 different beats made with 30 of their favorite coffee shops (and bars, etc.) in mind. The two, Azuma and Satsuki, were very nice to autograph it for me!

Nakatsuka Takeshi set list: niji o mita kai / Rhythm / Prism / toki no kiseki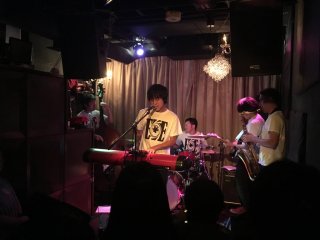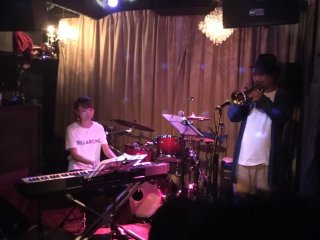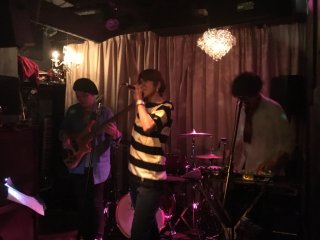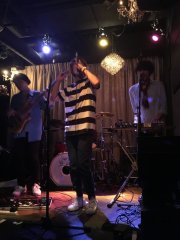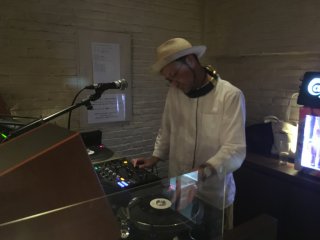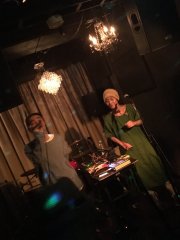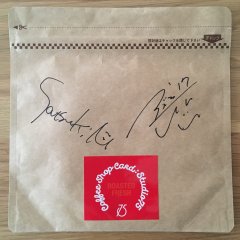 Nakatsuka Takeshi, Somethiing New, it's Me, DJ Takahashi Masaru, Small Circle of Friends
Music release news: Pizzicato Five, kataomoi
This week's video: SOLEIL "Breakout" & "Pinky Fluffy" in-store live at HMV record shop Shinjuku Alta
Posted on September 30, 2017 at 21:34 | Permalink | Trackback (0) | Comments (0) | Tweet |
---
September 23, 2017
Weekly revue: 2017 week #38 (September 17 to 22)

SOLEIL "Pinky Fluffy" now on sale! There will be an in-store mini-live on Sunday September 24 at HMV record shop Shinjuku Alta from 13:00 (details here).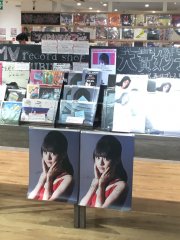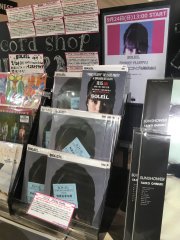 Display at HMV record shop Shinjuku Alta
Food: - Sanma (Pacific saury), liver & lemon, autumnal eggplant curries at Tapir, Shin-Okubo
- Victoria sponge cake at Kies, Nishi-Ogikubo
- Curry doria and salt-grilled tuna at Kitchen Ohnami, Kichijōji
- Mac'n'cheese at Good Meals Shop, Shibuya
Music release news: The Lady Spade, "Zen and Bones" Original Soundtrack, Meet The Hopes, Kaede (Negicco), Boomdigi, Cornelius, "Sweets Wonderland"
This week's video: Aira Mitsuki "Future in Loop"
Posted on September 23, 2017 at 11:28 | Permalink | Trackback (0) | Comments (0) | Tweet |
---
September 17, 2017
Weekly revue: 2017 week #37 (September 9 to 15)

Food: - Meatballs at World Meatball Classic, Shinjuku-gyoenmae
- Chocolate & salt milk ice cream at Tomihisa Ice Cream, Shinjuku
- Coffee and happy cat time at Café Arles, Shinjuku

Music events: - Last weekend was a special edition of party "Cult Club". It was held in the afternoon at Shimokitazawa Cage, part of an Asobisystem-related event. There was a special appearance by Fukuoka model Manon who recently started a singing career, with cool tracks produced by HNC. Her first 7" single "xxFANCYPOOLxx" had just been released. Manon sang all of her three songs ("xxFANCYPOOLxx", "Beat the Bad Luck" and "Wavy Pineapple Days"), giving a fun performance as she danced and posed for the many cameras, while HNC played some live keys! I also got to see rap units Yomeiri Land and Dreamcast, and also DJ sets by HNC and Threepee Boys.

- I dropped by an event at Journal Standard Shibuya that featured Nomiya Maki! Accompanied by DJ Tomizawa Noboru, also her long-time make-up artist, she sang "Tokyo wa yoru no 7ji", "Shibuya de 5ji", "Un homme et une femme" and "Sweet Soul Revue"! That was a short & sweet set in a beautiful decor! I also caught the end of a performance by Saitō Neko & Venus Kawamura Yuki.

Music release news: De De Mouse, "Ace 2" & "Ace ep" (J-Pop compilations by Konishi Yasuharu)

Posted on September 17, 2017 at 12:04 | Permalink | Trackback (0) | Comments (0) | Tweet |
---
September 10, 2017
Weekly revue: 2017 week #36 (September 2 to 8)

Food: - "Canadian size" poutine at Robson Fries, Shimokitazawa
- Horse meat & more at Ōhashi-shōten no tonari shokudō, Daitabashi. Great food and BGM!

Music event: I went to the release party live show for Wakita Monari's album "I am ONLY"! It was held at clubasia in Shibuya, and the place was packed! Monari was backed by a full band (guitar, bass, keyboards and drums) for the first time in her solo career, and together they performed all of the songs from the album, no exception! I've been enjoying the album a lot, and this made me realize even more how all the songs are so good. As always Monari's singing was amazing! There was also an acoustic part where Hase Yasuhiro (Yume To Cosme) accompanied on piano for three covers.

Set list: Cloudless Night / Irony / Est! Est!! Est!!! / Nakimushi Revolution / inori no kotoba / Tonight, the Night (Bonnie Pink cover) / Circus Night (Nanao Tavito cover) / Joy (Yuki cover) / I'm with you / Dippin' / anone,,, / akai Skirt / yoake no View / Boy Friend
Encore: In the City

The release of her next single was also announced, "Wingscape" produced by Count Joke, out on November 22! And another show with the same band will be held on December 15 at Roppongi Varit. These flowers were sent by Mori Erika (ex-Especia).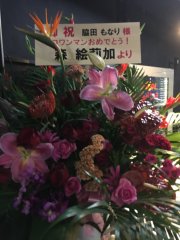 Music release news: Cutemen, Lucky Tapes, TRI4TH, Kaseki Cider & The Natsuyasumi Band, Ōzawa Kenji to Sekai No Owari, neco nemuru
This week's video: YMCK "Come on! Swing all stars" live performance from their show last February
Posted on September 10, 2017 at 12:19 | Permalink | Trackback (0) | Comments (0) | Tweet |
---
September 3, 2017
Weekly revue: 2017 week #35 (August 26 to September 1)

Food: - Tapir event at Watering Hole, Yoyogi
- Hamburger at The Counter, Roppongi
- Oden, etc. at Shōwa-kayō oden restaurant Denden, Kudanshita
- Chocolate mint, chocolate and pistachio ice cream at Tomohisa Ice Cream, Shinjuku

Music event: I went to see hitomitoi's concert for her latest album "Ecstasy", at Billboard Live Tokyo! While the album is mainly synthesizers, entirely produced by Dorian, for the show the songs were performed by a live band. 7 songs from "Ecstasy" were played, as well as some other favorites. Dorian and guitarist Kashif also appeared as guests for a few songs each. I love watching Dorian play live synth solos, plus he even sang chorus, maybe for the first time ever on stage? (Just my guess.) :) That was a really great show!

Set list: Dive / Serpent Coaster / Flash of Light / Dolphin (w/ Dorian) / Let it Out (w/ Dorian) / Discotheque Sputnik (w/ Dorian) / Prismatic (w/ Kashif) / natsu kōsen, kira. (w/ Kashif) / Moonlight / Swept Away / Varadero via L.A
Encore: koi wa omoi no mama (w/ Dorian & Kashif)

Music release news: Manon, Crazy Ken Band, Soleil

This week's video: Soleil "Pinky Fluffy / Breakout" debut single sampler clip

Posted on September 3, 2017 at 02:02 | Permalink | Trackback (0) | Comments (0) | Tweet |
---